This week's punishment of a lame two game suspension for Ravens running back Ray Rice has caused quite the backlash and rightfully so, but Ray isn't the first offender to come out with a light punishment for crimes against women and he probably, unfortunately, won't be the last. I think it's the norm for the NFL and others to treat these crimes lighter than say marijuana usage (which by the way, does not enhance performance, though it may help with pain) which most of the country agrees should be legal anyway.
This isn't just an NFL issue, this is a social, cultural issue. Beating, raping, or otherwise abusing women is not a new problem. Why do crimes against women rate lower than crimes against dogs as in the suspension punishment against Michael Vick? As a dog lover, I am not advocating that punishment be less, I am advocating that crimes against women be equal. Just to clarify. Why is it not cleat and transparent exactly how crimes against women ARE punished? Ben got a 4 game suspension for alleged rape, though he was not indicted. Ray Rice was indicted and got 2 games. Brandon Marshall who has a long, long list of abuse charges was suspended 3 games and that was reduced to 1 game later. Why all the discrepancies?
Over the last few days, I have been in discussion on my Facebook page that turned very heated when one follower suggested women need to take more responsibility and not get involved with the wrong type of man - probably similar to what Stephen A. Smith was trying, albeit not articulated well, to say, too. Yes, if someone is a known abuser, a known bad guy, probably not a good idea to get involved. But no one goes out and says, "Hey, I want to date that guy because he will beat me." So, that attitude caused quite the backlash. And, that attitude deserved it as Michelle Beadle ripped Stephen A. a new one.
The sad part about this whole thing is that Janay Palmer Rice had an opportunity to shed light on abuse against women and the platform to give voice to women. Instead, she married her abuser. I wish her luck. I don't know what the exact details spurring the altercation were, but once a man hits a woman, the door is open. (and yes, I heard she hit him first in the elevator, either way, no one should hit anyone, period. The. End.)
My comments to the men who suggest women get involved with the wrong guys is that yes, sometimes we do, but not purposely. And domestic violence is more complicated than just leaving your abuser. Especially where kids are involved. If you remember the Jennifer Lopez movie Enough, that movie showed some classic reasons it is difficult to leave an abuser. Especially when they have money and access. Sometimes, even when they don't have money, they can cause issues. In my own marriage, I faced abuse and even after I left, my ex-husband would show up and cause chaos. We had a child together, he had the right for visitation. I called the police numerous times. My neighbors called the police. He was never arrested despite me having marks and him being drunk. The police suggested a restraining order. Ok. That also didn't stop the lugnuts on all my tires from being loosened and my tires nearly coming off my car while driving on I-5 in San Diego. These things are real. Women are being hurt everyday. And as a society, we say, "well, what did she do to provoke it?" 'Did she hit him first?" "Why didn't she leave"
My response? "Why is he such an asshole that he needs to hit a woman?"
The attitude the NFL has shown in punishments for crimes against women is outright laughable and questionable. I'd like to see more straightforward information about discipline than what's publicly available now in the Personal Code of Conduct.
While criminal activity is clearly outside the scope of permissible conduct, and persons who engage in criminal activity will be subject to discipline, the standard of conduct for persons employed in the NFL is considerably higher. It is not enough simply to avoid being found guilty of a crime. Instead, as an employee of the NFL or a member club, you are held to a higher standard and expected to conduct yourself in a way that is responsible, promotes the values upon which the League is based, and is lawful. Persons who fail to live up to this standard of conduct are guilty of conduct detrimental and subject to discipline, even where the conduct itself does not result in conviction of a crime. Discipline may be imposed in any of the following circumstances:

Criminal offenses including, but not limited to, those involving:

The use or threat of violence; domestic violence and other forms of partner abuse; theft and other property crimes; sex offenses; obstruction or resisting arrest; disorderly conduct; fraud; racketeering; and money laundering;
Criminal offenses relating to steroids and prohibited substances, or substances of abuse;
Violent or threatening behavior among employees, whether in or outside the workplace;
Possession of a gun or other weapon in any workplace setting, including but not limited to stadiums, team facilities, training camp, locker rooms, team planes, buses, parking lots, etc., or unlawful possession of a weapon outside of the workplace;
Conduct that imposes inherent danger to the safety and well being of another person; and
Conduct that undermines or puts at risk the integrity and reputation of the NFL, NFL clubs, or NFL players.
Discipline:

Upon learning of conduct that may give rise to discipline, the League will direct an investigation which may include interviews and information gathering from medical, law enforcement, and other relevant professionals. The League will promptly advise the NFLPA of any investigation of a player, as well as of the results of the investigation. As appropriate, the employee will also have the opportunity, represented by counsel and/or a union official, to address the conduct at issue. Upon conclusion of the investigation, the Commissioner will have full authority to impose discipline as warranted.

Discipline may take the form of fines, suspension, or banishment from the League and may include a probationary period and conditions that must be satisfied prior to or following reinstatement. The specifics of the disciplinary response will be based on the nature of the incident, the actual or threatened risk to the participant and others, any prior or additional misconduct (whether or not criminal charges were filed), and other relevant factors.

Unless the case involves significant bodily harm, a first offense will generally not result in discipline until there has been a disposition of the proceeding (or until the investigation is complete in the case of employee or workplace misconduct).

With respect to repeat offenders, the Commissioner may impose discipline on an expedited basis. In such cases, the timing and nature of the discipline will be determined by the Commissioner based on several factors including but not limited to: the severity of the initial charge and later charge; the facts underlying the later charge; the length of time between the initial offense and later charge; and the player or employee's compliance with counseling and other programs. Following a full investigation and/or resolution of the proceedings, the Commissioner will review the matter and make any appropriate adjustments.
So in other words, it's just up to the Commissioner what penalty, if any, will be imposed on a case by case basis.
I'm not going to say that abusers of women can't be rehabilitated. BUT, why do they get a pass right out the gate. Why can't they receive strong punishment and then PROVE they want to be rehabilitated.
Instead, I feel like the NFL has just inserted itself into the cycle of violence. Specifically, the honeymoon period.
The League has spent a lot of time, money and effort on the female fan. They have moved away from everything being pink and a size two to realizing that there are fans who don't wear high heels to games and who want to represent their teams in team colors while wearing something cut for a woman and that we all aren't a size 2. Yet in a few actions,not just this week, but over time, have shown that they really don't give a fuck about women at all. They will gladly take my money, send me a million emails for Steelers gear but they really don't respect me.
And that attitude isn't just shown in the NFL.Take this guy for example....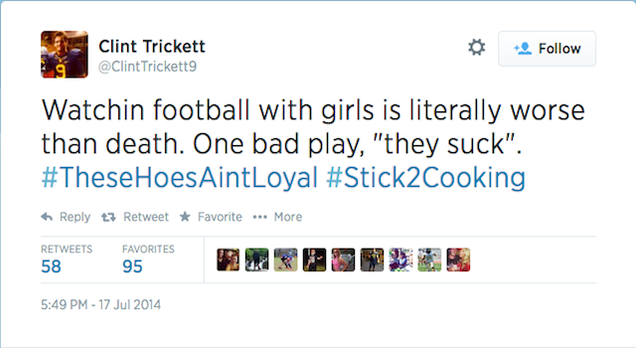 Honestly, after this week, I feel dirty.
I love my Steelers, I love the game of football, but this is probably the first time I have thought *shrugs* I don't care. The Steelers reported to Latrobe yesterday - normally a really exciting time of the year for fans. I *might* go, I *might* go to a game, but I will be spending a lot more time caring about high school and college football this year. (Though not likely going to be a WVU QB fan anytime soon).
And most of all, I am going to continue to teach my son that you can't put your hands on anyone ever. No matter how mad or angry you are. You have to be the bigger person. Walk away. Respect women.
My son's college football code of conduct at JMU clearly emphasizes respecting women. In fact, it's #1 in their code. Hats off to Coach Withers and his coaching staff - clearly they have the priority where it should be. Maybe the NFL should take note.